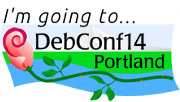 Remember that if you would like to request sponsorship to attend DebConf14, the deadline for registration is today, Thursday, May 15. To be considered for sponsored attendance, your registration and sponsorship request must be received by the end of the day. For travel sponsorship requests, this includes complete information about the funding amount requested. We will happily approve travel sponsorship requests in the amount of $0, but after today you will not be able to change the amount of travel sponsorship you are requesting!
Registrations will still be accepted after today in any of the basic, professional, and corporate categories, but requests for sponsorship will no longer be accepted.
To register, please read this page and then fill out the registration form.