Dear all,

Registration is now open for DebConf13, which will take place in Le Camp near Vaumarcus, Switzerland, from Sunday 11 August to Saturday 17 August 2013. The registration deadline for those who wish to make sponsorship applications is Wednesday 15 May 2013. After this date, you can still register, but you will need to pay for accommodation and food.
Registration
If you want to attend DebConf13, go to the Registration page and follow the procedure outlined there. Please even read the website page if you attended previous conferences, because it explains some important changes with respect to previous years.
DebCamp
We are planning to prepend the current DebConf week with additional DebCamp days, but we need some more time to sort out the details. We also need more money to be able to fully sponsor DebCamp for everyone or to extend it to more than a few days. If you would like this to happen, please contact us and help find additional sponsorship. We will send another announcement about DebCamp as soon as registration for DebCamp opens.
Thank you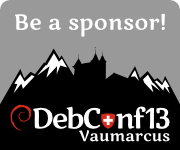 DebConf13 thanks its two platinum sponsors, Google and the Matanel Foundation, as well as all other sponsors.
We look forward to welcoming you to Le Camp in August!
The DebConf team
The DebConf13 matching fund announced previously is now complete. The matching sponsor, Brandorr Group will match the collected amount of 2513 USD, resulting in 5026 USD of sponsoring money for DebConf13, for the benefit of all attendees.
Despite raising only slightly more than half of the expected money, this first experience of raising funds through this matching fund mechanism can be considered successful.
DebConf is very important to the health of Debian, and Debian is very important to our team, so we're doing what we can to help. In this case we really wanted to see if we could provide an incentive for individual users of Debian to donate to the project. It seems like it worked well, and we'd love to do something like this again in the future.

Brian Gupta, Brandorr Group
DebConf13 continues to welcome donations from individuals and is also seeking further sponsors.
Registration opening
Registration for DebConf13 will be opening shortly: stay tuned!
We look forward to welcoming you to Vaumarcus!