(Posted by: DebConf17 team)
As you may already know, next DebConf will be held at Collège de Maisonneuve in Montreal from August 6 to August 12, 2017. We are already thinking about the conference schedule, and the content team is open to suggestions for invited speakers.
Priority will be given to speakers who are not regular DebConf attendees, who are more likely to bring diverse viewpoints to the conference.
Please keep in mind that some speakers may have very busy schedules and need to be booked far in advance. So, we would like to start inviting speakers in the middle of September 2016.
If you would like to suggest a speaker to invite, please follow the procedure described on the Inviting Speakers page of the DebConf wiki.
DebConf17 team

(Posted by: DebConf Team)
A week ago, we concluded our biggest DebConf ever! It was a huge success.

We are overwhelmed by the positive feedback, for which we're very grateful. We want to thank you all for participating in the talks; speakers and audience alike, in person or live over the global Internet — it wouldn't be the fantastic DebConf experience without you!
Many of our events were recorded and streamed live, and are now available for viewing, as are the slides and photos.
To share a sense of the scale of what all of us accomplished together, we've compiled a few statistics:
555 attendees from 52 countries (including 28 kids)
216 scheduled events (183 talks and workshops), of which 119 were streamed and recorded
62 sponsors and partners
169 people sponsored for food & accommodation
79 professional and 35 corporate registrations
Our very own designer Valessio Brito made a lovely video of impressions and images of the conference.
We're collecting impressions from attendees as well as links to press articles, including Linux Weekly News coverage of specific sessions of DebConf. If you find something not yet included, please help us by adding links to the wiki.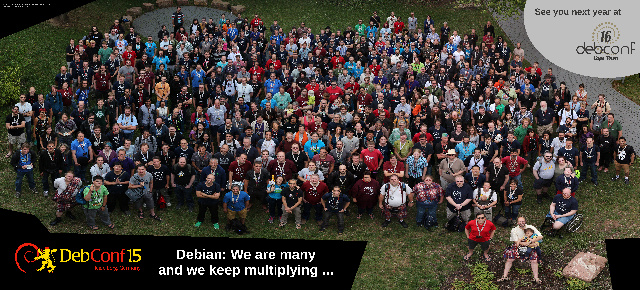 We tried a few new ideas this year, including a larger number of invited and featured speakers than ever before.
On the Open Weekend, some of our sponsors presented their career opportunities at our job fair, which was very well attended.
And a diverse selection of entertainment options provided the necessary breaks and ample opportunity for socialising.
On the last Friday, the Oscar-winning documentary "Citizenfour" was screened, with some introductory remarks by Jacob Appelbaum and a remote address by its director, Laura Poitras, and followed by a long Q&A session by Jacob.
DebConf15 was also the first DebConf with organised childcare (including a Teckids workshop for kids of age 8-16), which our DPL Neil McGovern standardised for the future: "it's a thing now," he said.
The participants used the week before the conference for intensive work, sprints and workshops, and throughout the main conference, significant progress was made on Debian and Free Software. Possibly the most visible was the endeavour to provide reproducible builds, but the planning of the next stable release "stretch" received no less attention. Groups like the Perl team, the diversity outreach programme and even DebConf organisation spent much time together discussing next steps and goals, and hundreds of commits were made to the archive, as well as bugs closed.
DebConf15 was an amazing conference, it brought together hundreds of people, some oldtimers as well as plenty of new contributors, and we all had a great time, learning and collaborating with each other, says Margarita Manterola of the organiser team, and continues: The whole team worked really hard, and we are all very satisfied with the outcome. Another organiser, Martin Krafft adds: We mainly provided the infrastructure and space. A lot of what happened during the two weeks was thanks to our attendees. And that's what makes DebConf be DebConf.

Our organisation was greatly supported by the staff of the conference venue, the Jugendherberge Heidelberg International, who didn't take very long to identify with our diverse group, and who left no wishes untried. The venue itself was wonderfully spacious and never seemed too full as people spread naturally across the various conference rooms, the many open areas, the beergarden, the outside hacklabs and the lawn.
The network installed specifically for our conference in collaboration with the nearby university, the neighbouring zoo, and the youth hostel provided us with a 1 Gbps upstream link, which we managed to almost saturate. The connection will stay in place, leaving the youth hostel as one with possibly the fastest Internet connection in the state.
And the kitchen catered high-quality food to all attendees and their special requirements. Regional beer and wine, as well as local specialities, were provided at the bistro.
DebConf exists to bring people together, which includes paying for travel, food and accomodation for people who could not otherwise attend. We would never have been able to achieve what we did without the support of our generous sponsors, especially our Platinum Sponsor Hewlett-Packard. Thank you very much.
See you next year in Cape Town, South Africa!

(Posted by: DebConf Team)
We are happy to announce that TecKids, a non-profit specialising in working with kids, teaching them technonology, and fostering self-sustaining communities amongst them, will be holding a workshop from 15.08. to 18.08.
The focus is on kids aged 10-15 years old, but kids aged 8-16 years old are welcome to attend if they can follow the course without supervision of theirs parents.
Admission is free of charge, but registration through TecKids' web form is mandatory. Registration is open until Tuesday, 11 August.
The rough schedule for now is:
robotics
game programming
Arduino
You will be kept up to date on any changes to the schedule and other details by the TecKids team after registration. It is important that you check mail before heading to DebConf in order to receive any last-minute informations.

(Posted by: Martin Krafft)
The interest to participate in DebConf15, which will start in 10 days, has been overwhelming. Thank you so much!
We planned the conference for 350 people and we now expect more than 570. This is fantastic and a wonderful support and encouragement for Debian and its contributors. But we are getting to the point where we have to prioritise considerations about the capacity of the venue and the safety of our attendees.
We've therefore had to close registrations until we have evaluated further options for accomodating even more attendees. For those of you who did not register for DebConf on time, but still want to participate, please bear with us and make sure to check back soon.

(Posted by: DebConf Content Team)
DebConf15 Schedule
The DebConf content team is pleased to announce the schedule of DebConf15, the forthcoming Debian Developers Conference. From a total of nearly 100 talk submissions, the team selected 75 talks. Due to the high number of submissions, several talks had to be shortened to 20 minute slots, of which a total of 30 talks have made it to the schedule.
In addition, around 50 meetings and discussions (BoFs) have been submitted so far, as well as several other events like lightning talk sessions, live demos, a movie screening, a poetry night or stand-up comedy.
The Schedule is available online at the DebConf15 conference site.
Further changes to the schedule can and will be made, but today's announcement represents the first stable version.
Featured Speakers
In addition to the previously announced invited speakers, the content team also announces the following list of additional featured speakers:
The full list of invited and featured speakers, including the invited speakers profiles and the titles of their talks is available here.

(Posted by: DebConf Team)
DebConf is not just for Debian Developers, we welcome all members of our community active in different areas, like translation, documentation, artwork, testing, specialized derivatives, and many other ways that help make Debian better.
In fact, we would like to open DebConf to an even broader audience, and we strongly believe that more diversity at DebConf and in the Debian community will significantly help us towards our goal of becoming the Universal Operating System.
The DebConf team is proud to announce that we have started designing a specific diversity sponsorship programme to attract people to DebConf that would otherwise not consider attending our conference or not be able to join us.
In order to apply for this special sponsorship, please write an email to outreach@debian.org, before July 6th, about your interest in Debian and your sponsorship needs (accomodation, travel). Please include a sentence or two about why you are applying for a Diversity Sponsorship. You can also nominate people you think should be considered for this sponsorship programme.
Please feel free to send this announcement on to groups or individuals that could be interested in this sponsorship programme.
And we're also looking forward to your feedback. We're just getting started and you can help shape these efforts.

(Posted by: DebConf Team)
This year, on top of the many excellent contributed talks, BoFs, and other events always part of DebConf (some of which have already been announced) we are excited to have confirmed the following keynote speakers.
During the Open Weekend (Saturday, August 15th and Sunday, August 16th), we will have keynotes delivered by:
Bradley M. Kuhn, President, Software Freedom Conservancy / Board of Directors, Free Software Foundation (Wikipedia page)
Werner Koch, Creator and Lead Developer, GnuPG Project / g10 Code GmbH (Wikipedia page)
Bdale Garbee, Chief Technologist Open Source and Linux, HP / Debian Project (Wikipedia page)
On the last day of DebConf, we look forward to the closing keynote by:
Jacob Appelbaum, Security Researcher and Journalist / Tor Project (Wikipedia page)
For more information about our invited speakers, please see http://debconf15.debconf.org/invited_speakers.xhtml
Citizenfour Screening
Additionally, there will be a screening of the Citizenfour movie, winner of the Best Documentary Feature Academy Award on the evening of Friday, August 21st.
You still have time to submit your talk
There are only a few days left before the end of the Call for Proposals on June 15th. Events submitted after that date might not be part of the official DebConf schedule. So, please, hurry, check out the proposal submission guide and submit your event.
Regards from the DebConf Team

(Posted by: Michael Banck)
Call for Proposals Deadline
The deadline for submitting proposals is approaching, with only 12 days left to submit your event by June 15th. Events submitted after that date might not be part of the official DebConf schedule.
We are very excited about the upcoming conference, and we would like to encourage you to send your proposals. It's an important part of the conference to hear and discuss new ideas. If you have something that you'd like to present but you have not submitted your event yet, please don't wait until the last minute! Check out the proposal submission guide and submit your event.
If you have already submitted your event, do take this opportunity to login to summit and review it, expanding the event description to be more descriptive and appealing to the attendees if necessary.
Second Batch of Approved talks
We are happy to announce the following talks that are already approved:
Please hurry up and share your ideas with us. Propose your event before the deadline is reached.
Looking forward to see you on Heidelberg,
The DebConf content Team

(Posted by: DebConf Content Team)
DebConf15 will be held in Heidelberg, Germany from the 15th to the 22nd of August, 2015. The clock is ticking and our annual conference is approaching. There are less than three months to go, and the Call for Proposals period closes in only a few weeks.
This year, we are encouraging people to submit "half-length" 20-minute events, to allow attendees to have a broader view of the many things that go on in the project in the limited amount of time that we have.
To make sure that your proposal is part of the official DebConf schedule you should submit it before June 15th.
If you have already sent your proposal, please log in to summit and make sure to improve your description and title. This will help us fit the talks into tracks, and devise a cohesive schedule.
For more details on how to submit a proposal see: http://debconf15.debconf.org/proposals.xhtml.
Approved Talks
We have processed the proposals submitted up to now, and we are proud to announce the first batch of approved talks. Some of them:
This APT has Super Cow Powers (David Kalnischkies)
AppStream, Limba, XdgApp: Past, present and future (Matthias Klumpp)
Onwards to Stretch (and other items from the Release Team) (Niels Thykier for the Release Team)
GnuPG in Debian report (Daniel Kahn Gillmor)
Stretching out for trustworthy reproducible builds - creating bit by bit identical binaries (Holger Levsen & Lunar)
Debian sysadmin (and infrastructure) from an outsider/newcomer perspective (Donald Norwood)
The Debian Long Term Support Team: Past, Present and Future (Raphaël Hertzog & Holger Levsen)
If you have already submitted your event and haven't heard from us yet, don't panic! We will contact you shortly.
We would really like to hear about new ideas, teams and projects related to Debian, so do not hesitate to submit yours.
See you in Heidelberg,
DebConf Team

(Posted by: DebConf Content Team )
The first two days of this year's DebConf (August 15th and 16th) will constitute the Open Weekend. On these days, we are planning to have the Debian 22nd Birthday party, a Job Fair, and more than 20 hours of events and presentations, including some special invited speakers.
Given that we expect to have a broader and larger audience during the weekend, our goal is to have talks that are equally interesting for both Debian contributors and users.
If you want to present something that might be interesting to the larger Debian community, please go ahead and submit it. It can be for a talk of either 45 or 20 minutes; if you don't have content for a full length talk, we encourage you to go for the half length one. If you consider that the event is better suited for either the OpenWeekend or the regular DebConf days, you may say so in the comment field. But keep in mind that all events might be rearranged by the content team to make sure they fit together nicely.
Call for proposals
The deadline to submit proposals is June 15th. Please submit your talk early with a good description and a catchy title. We look forward to seeing your proposals!
If you want to submit an event please go ahead and read the original CfP on DebConf15 http://debconf15.debconf.org/proposals.xhtml.

(Posted by: Martin Krafft)
The Debian Project will celebrate its 22nd birthday during DebConf15 in Heidelberg in August 2015. At this age, it's unsurprising that children of Debian contributors have attended our developer conference for several years.
Going with the times, we would like to work further towards making DebConf15 a child-friendly (parents-friendly) conference. The conference venue is far away from traffic, self-contained, and there is a dedicated children's play room. There are green areas around, and the Heidelberg Zoo is literally within sight of the venue. We haven't yet discussed deals with them, but we could.
In short: if you'd like to attend DebConf, but you are yet unsure what to do with your children… bring your kids along!
The hostel has a number of 3 and 4 bed-rooms with en-suite bathrooms, plus a good supply of cots available for the very little ones. We will allocate such rooms to families exclusively for your privacy (subject to availability, so please register yourself ASAP, and include a note about your kids).
We are maintaining answers to commonly-asked questions on the wiki. Please let us know if anything is missing, and feel free to update the page yourself.
We would also like to explore additional possibilities to make it easier for parents to participate in the conference. At the moment, we're still scouting for ideas and there are already a number of promising leads.
To help us figure out what we'd best offer, we need to know about the demand. If you are planning to bring your children, or if you're thinking about it, please drop a short note with number and ages and any other relevant information to kids@debconf.org. Your mail will be read by a few parents involved in the organisation of DebConf15 and we will obviously keep your data private.
We also created a (publicly archived) mailing list to discuss options and keep people updated on our plans. Please subscribe yourself to the list, if interested, and feel free to write to debconf-kids@lists.debian.org with any questions or ideas you might have.

(Posted by: Michael Banck)
We're now calling for proposals for DebConf15. Proposals are accepted from now until 15 June 2015. To submit an event, go to the Propose an Event page once you are registered for the conference.
The DebConf Content Team will decide on a first round of submissions in May, so be sure to submit your proposal soon if you need it to be accepted by then, e.g. for sponsorship requests.
The current, non-exhaustive list of proposed topics is:
Debian Packaging, Policy, and Infrastructure
Security, Safety, and Hacking
Debian System Administration, Automation and Orchestration
Containers and Cloud Computing with Debian
Debian Success Stories
Debian in the Social, Ethical, Legal, and Political Context
Blends, Subprojects, Derivatives, and Projects using Debian
Embedded Debian and Hardware-Level Systems
For all further information, please see the Proposals page of the DebConf15 website.

(Posted by: René Mayorga)
Last year for the DebConf edition that took place in Portland, we had some invited speakers that helped bring a different point of view to the matters discussed during the conference. This year we would like to do this again.
If you would like to suggest inviting someone that would not regularly attend DebConf, the DebConf Content Team encourages you to do that now. We will stop accepting new suggestions on 10 March 2015.
You can follow the simple procedure described on the Inviting Speakers page in the DebConf's Wiki
Please keep in mind that we don't promise to bring to Heidelberg everyone that is suggested. The final list of invited speakers will depend on the speakers' availability and our limited budget.

(Posted by: Laura Arjona Reina)
Happy New Year! 2015 is the year of DebConf15 in Heidelberg. We are working hard on another awesome Debian Conference. How about making a new year's resolution to join us?
You can think about giving a talk: expect the call for papers soon! Or convince somebody to present one (it's always nice to see new speakers!). What about joining any of the DebConf teams for the preparation? Or support your Debian friends that are already in some team and helping them a little… Another way of contributing is to talk with some of the companies or institutions around you and ask them to become sponsors, or making a donation yourself. And of course, we also appreciate the promotion of the conference in your networks, or any other contribution or idea you can share :)
We wish that your 2015 is full of good times, and we hope we share some of them together at DebConf15! Happy hacking!

(Posted by: Laura Arjona Reina)
The Debian project recently welcomed the first nine sponsors for Debconf15: credativ and sipgate as Gold sponsors, Google, Farsight Security, Inc., Martin Alfke / Buero 2.0 and Ubuntu as silver sponsors, and Logilab, Netways and Hetzner as Bronze-level.
But things have kept moving! The Matanel Foundation just committed to support DebConf15 as Gold-level sponsor, and Mirantis as Silver-level. So, at the time of writing this, we have 11 sponsors. We are very thankful for that!
The DebConf team aims to organize the Debian Conference as a self-sustaining event, despite its size and complexity (the Final Report for DebConf14 gives a good indication). The financial contributions by individuals, companies and organizations, as well as the support by our infrastructure sponsors, media partners, and volunteers, are pivotal to our success.
There are many different possibilities to support DebConf. If you know any company or organization that could be interested, don't hesitate to point them at our sponsorship brochure (also available in German) or tell us about any leads.