(Posted by: Didier Raboud)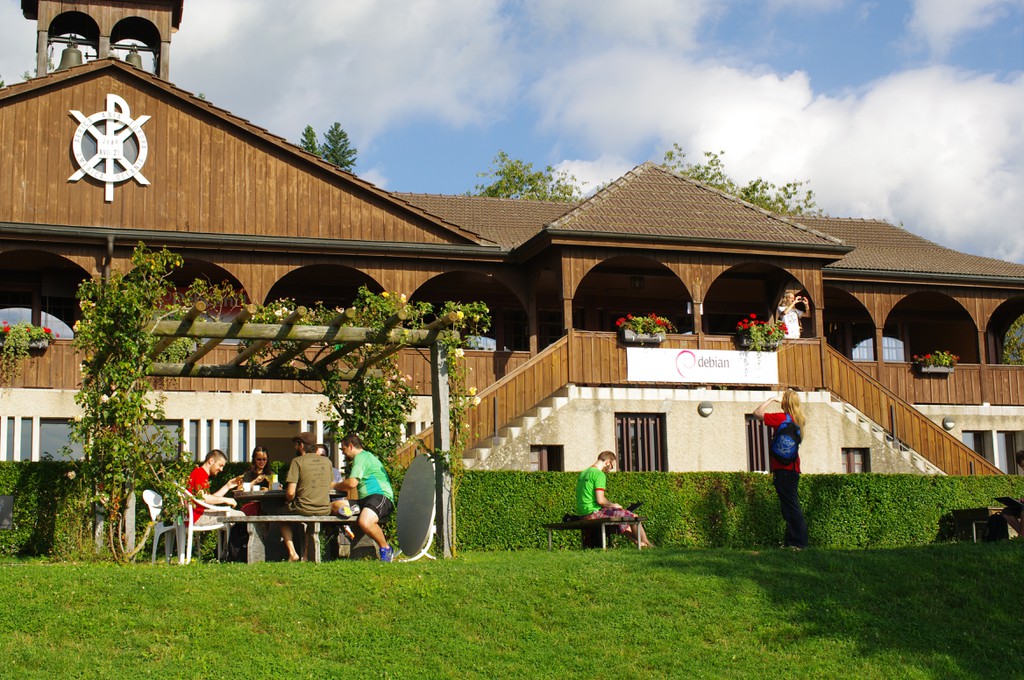 Copyright © 2004 - 2013 Michal Čihař.
After two incredible weeks here in Vaumarcus, the awesome team of DebConf volunteers and organizers is getting his latest lunch from Le Camp after having spent the morning tyding the venue.
This DebConf made more than hundred scheduled hours of talks, BoFs and meetings possible and brought more than 300 attendees together from all around the world. Live video coverage for two talk rooms during six days, eight kilograms of powder sugar for the Debian Birthday cake icing and thousands of smiling faces made this DebConf the awesome week it's been.
The view is really fantastic from here! Thanks for all the fish!
We look forward to meeting everyone in 2014 at the next DebConf in Portland!
The DebConf team

(Posted by: Holger Levsen and the DebConf videoteam)
This is just a quick update about the video streams of DebConf13 which are available at the following URLs:
/me bows to this is pretty fantatic results - and, the view is also fantastic! Especially from down at the lake :-)
P.S.: I've you missed some technical details in the systemd talk from Lennart, these are
probably in here
.

(Posted by: Holger Levsen and the DebConf videoteam)
This is just a quick note that the video streams of DebConf13 will be available at the following URLs:
May you have a productive and joyful DebConf - and thanks for volunteering + talking if you do so! DebConf is what you make it.

(Posted by: Talks team)
We are happy to announce that the schedule for the upcoming DebConf13 in Vaumarcus, Switzerland, is available! It is still possible for some changes to occur, as we always try to accept new proposals, even those submitted during the conference.
DebConf13 talks will mostly happen in two rooms simultaneously, except for a few plenaries which will be presented in the main room with no parallel event. A third room will be available for discussion groups and ad-hoc sessions. As usual, we've tried to cluster related activities in sequence, even though it was not always possible. Besides that there will be many tracks covering specific topics, which are:
Debian for the cloud
Building and porting
Community outreach
Real time communications
Debian blends and derivatives
Quality assurance
Debian boot
Debian in education
Debian teams
There will also be two special tracks, since DebConf is not only about hacking, talks and discussions:
Social activities, which includes a poetry night, the traditional cheese and wine party, our group photo, a day trip, the conference dinner etc.
Debian 20th birthday, an event open to the general public to celebrate Debian's 20th birthday (details to come soon!).
As in previous years, we provide various ways to access the schedule:
— the DebConf team

(Posted by: Didier Raboud)

DebConf13 DebCamp confirmed!
The DebConf Team is very pleased to announce that DebCamp will be open for almost a full week in August. DebCamp will start on Tuesday 6 August 2013 at the main conference venue, Le Camp, and will be immediately followed by DebConf13, starting Sunday 11th August.
Opening of the reconfirmation period
As the DebConf Registration Team have announced on debconf-announce (to which you should really be subscribed), now is the time to reconfirm your attendance to DebConf13 (and actually register to DebCamp). This is really important for final calculations of food, room and costs, please read the announcement for all the important details. The reconfirmation period is open until the 30 June 2013.
We look forward to seeing everyone in August in Vaumarcus.
The DebConf team

(Posted by: Didier Raboud)
Dear all,

DebConf13 sponsorship application date extended
As communicated through the debconf-announce@lists.debconf.org mailing list, the deadline to apply for DebConf13 sponsorship has been extended to the end of this week, May 19th.
If you intend to attend DebConf13 in August and would like to apply for sponsored registration, now is the time to register in Penta! After this deadline you will no longer be able to apply for sponsored food, accomodation or travel. Please refer to the announcement and to the registration documentation for details. Please contact us on the debconf-discuss mailing list if you have any questions.
DebConf12 final report
The DebConf team is also happy to announce the release of the DebConf12 Final Report. It's a 39-page document which gives the reader an idea about the conference as a whole. It includes descriptions of talks, DebCamp and Debian Day activities, personal impressions, attendee and budgeting numbers, the work of various teams, social events and so on. If you attended Debconf12, the report may refresh some of your memories and bring you closer to the organization team work. If not, it will certainly encourage you to be part of future Debian events.
We thank the Universidad Centroamericana, the Government of Nicaragua, Google and all other DebConf12 sponsors for their support that made the event possible.
The DebConf team

(Posted by: Didier Raboud)
Dear all,

Registration is now open for DebConf13, which will take place in Le Camp near Vaumarcus, Switzerland, from Sunday 11 August to Saturday 17 August 2013. The registration deadline for those who wish to make sponsorship applications is Wednesday 15 May 2013. After this date, you can still register, but you will need to pay for accommodation and food.
Registration
If you want to attend DebConf13, go to the Registration page and follow the procedure outlined there. Please even read the website page if you attended previous conferences, because it explains some important changes with respect to previous years.
DebCamp
We are planning to prepend the current DebConf week with additional DebCamp days, but we need some more time to sort out the details. We also need more money to be able to fully sponsor DebCamp for everyone or to extend it to more than a few days. If you would like this to happen, please contact us and help find additional sponsorship. We will send another announcement about DebCamp as soon as registration for DebCamp opens.
Thank you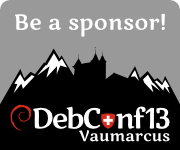 DebConf13 thanks its two platinum sponsors, Google and the Matanel Foundation, as well as all other sponsors.
We look forward to welcoming you to Le Camp in August!
The DebConf team

(Posted by: Didier Raboud)
The DebConf13 matching fund announced previously is now complete. The matching sponsor, Brandorr Group will match the collected amount of 2513 USD, resulting in 5026 USD of sponsoring money for DebConf13, for the benefit of all attendees.
Despite raising only slightly more than half of the expected money, this first experience of raising funds through this matching fund mechanism can be considered successful.
DebConf is very important to the health of Debian, and Debian is very important to our team, so we're doing what we can to help. In this case we really wanted to see if we could provide an incentive for individual users of Debian to donate to the project. It seems like it worked well, and we'd love to do something like this again in the future.

Brian Gupta, Brandorr Group
DebConf13 continues to welcome donations from individuals and is also seeking further sponsors.
Registration opening
Registration for DebConf13 will be opening shortly: stay tuned!
We look forward to welcoming you to Vaumarcus!

(Posted by: Didier Raboud)
As part of the DebConf13 fundraising effort, a generous sponsor, Brandorr Group, has proposed to start a matching fund in USD for DebConf13; in place through the end of April 30th. The rules are quite simple:
for each dollar donated by an individual to DebConf13 through the mechanism, Brandorr Group will donate another dollar;
individual donations will be matched only up to 100 USD each;
only donations in USD will be matched;
Brandorr Group will match the donated funds up to a maximum total of 5 000 USD;
this generous offer will only stay in place through the end of April 30th, please act quickly, and help spread the word!
For details, please see our Monetary support from individuals page, which also has a short url, for convenience: http://deb.li/dc13donate.
Help welcome
As always, the DebConf team is looking for volunteers. Some jobs need technical skills, but many DebConf tasks are about working to deadlines on non-technical issues (e.g. fundraising, budgeting, talk scheduling). You can see more information about some of the jobs to be done on the DebConf wiki.
Please do think about getting involved and sharing your ideas with us, to help us make DebConf an even more useful event for Debian in the future.
We look forward to welcoming you to Vaumarcus!

(Posted by: Moray Allan, Didier Raboud and the DebConf team)
This post is a quick status update on DebConf13, for those who aren't following the debconf-team mailing list.
As you may know, this year's DebConf will be held at Le Camp, in Vaumarcus, Switzerland.  Our concept for this DebConf is to hold it in a natural environment, away from distractions. We hope you will enjoy spending time together with other Debian collaborators in this beautiful part of Switzerland, on the shore of Lake Neuchâtel.
Dates
DebConf13 will take place from Sunday 11. August 2013 to Sunday 18. August 2013. (We will use Saturday 10. August 2013 to prepare the venue for the conference.)
You may notice that the dates don't cover two weeks like in the last few years (there is no separate DebCamp week). For budget reasons, current plans are to merge the two weeks' activities  into an 8 day period. If you think that's a pity, it's not too late to change it — just join the fundraising team and start working quickly!
Travel
If you want to start arranging your travel to attend DebConf, some initial travel suggestions may be useful:
We recommend that people from nearby countries take advantage of the excellent train connections to Switzerland, rather than looking for flights: the Swiss Federal Railways website, provides a very helpful international travel planner which knows about trains, but also about the local bus connections you will need to reach the DebConf venue.
The best railway station to aim for is Yverdon-les-Bains. To get to the venue from there, take a local bus to the bus stop called "Concise, Camp de Vaumarcus", which is very close to the venue. You can also directly use that name as your final destination in the above travel planner.
Nearby airports include Geneva -  GVA (1h30 from the venue by train), Zurich - ZRH (3h from the venue by train) and Basel-Mulhouse - BSL (3h from the venue by train).
The DebConf13 map shows the venue and the bus line (with some stops).
Registration
We expect to open registration around the start of March. Currently we are still evaluating some possible new conference management systems, which we hope might avoid the frustrations some attendees have had in the past with Pentabarf.
Help welcome
As always, the DebConf team is looking for volunteers. Some jobs need technical skills (e.g. testing conference management system setups, working on the website), but many DebConf tasks are about working to deadlines on non-technical issues (e.g. fundraising, budgeting, talk scheduling). You can see more information about some of the jobs to be done on the  DebConf wiki.
Please do think about getting involved and sharing your ideas with us, to help us make DebConf an even more useful event for Debian in the future.
We look forward to welcoming you to Vaumarcus!

(Posted by: nattie)
The deadline for sponsored registration for DebConf11 in Banja Luka, originally May 8th, has officially been extended to May 19th. The reasons for the extension are as follows:
Thanks to a significant increase in sponsorship from one of our main sponsors, we have been permitted and encouraged to welcome more people to the conference. The extension is a one-off occurrence in response to this new development, and to allow any potential attendees time to access more information before registering.
Registration is required for everybody who plans to attend any part of Debconf. Access to the conference venue, food and accommodation is controlled through the registration badge. The only exception to the registration requirement is for those who plan to only attend Debian Day.
It is possible to request sponsorship for food, accommodation, and travel. Those who have been involved or contributed to Debian or to other open source projects are eligible to apply for sponsorship, which will be decided on a case-by-case basis.
The professional and corporate categories are for those who are sent and sponsored by their companies. Professional registration covers the actual costs of conference attendance, while corporate registration is just over double that price, and is aimed at those who, besides paying the actual costs, also want to contribute money and help Debian.
— the DebConf team

(Posted by: Martín Ferrari)
Registration is now open for DebConf8, which will take place in Mar del Plata from Sunday 10 to Saturday 16 August 2008.
To register follow one of the processes outlined below:
If you registered for last years conference, DebConf7, go to this page to login.
If you haven't registered for last years conference you need an account in the conference management system. To register one, go to the following page and create an account. After visiting the activation URL sent to you by email, go to your user's page and log in.
After you logged in
After you successfully logged in, please fill in at least the 'General', 'Contact' and 'Travel' tabs reachable through the 'Registration details' button on the bar on the left of the page. Please pay special attention to the 'DebConf' and 'DebCamp' boxes on the 'General' tab. You need to select at least the "I want to attend this conference" checkbox or your registration won't be valid.
Note to users who have an account from last year: We did our best in making sure you do not have to reenter all your personal data again, just the conference specific changes. But please check if it is all still valid.
We suggest that attendees begin making travel arrangements as soon as possible. Some travel information has already been collected at the DebConf 8 site.
Submitting a paper/event
To submit papers, first register for DebConf as described above. Then use the 'New event/paper' button on this page and fill in information about your submission on the various tabs. You can use the same interface to submit papers for DebConf and DebCamp, by choosing the appropriate track.

(Posted by: Rodrigo Gallardo)
We are leaving in a couple hours for Xochicalco, one of the many archeological sites here in Mexico. All in all, we are very pleased with the trip we are offering, and really hope everyone likes it.We do have a long day ahead of us, since it will take almost two hours to get there, then we'll be touring the place for about three hours, go for lunch and then head for Cuernavaca, where we'll spend a few more hours before heading back here.
I'm pretty sure there will be plenty of pictures of the site for those of you following along at home, so check people's galleries afterwards.
And, it's kind of late to say this, since everyone has seen Gunnar's feeling better, but still: Gunnar, you've made some terrific work here! Us mexicans are very proud of you.

(Posted by: Vedran Omeragic)
Recently there has been some major developments in DebConf11 organization. In short, I will list some of the most important.
Website
Official DC11 website has finally been completed and now contains a great deal of information for those interested in attending this years conference. Some of the most notable changes include:
Navigation
Frontpage now contains a small menu with links to most important parts of website, like About, Registration, Contact… Sidebar menu is now divided in 3 categories:
The Conference Links to pages which are directly connected with the Conference like About DC, Debian Day, Registration, Call for Papers, Talk Schedules, Payments… Most of these links are hidden at the moment, and will be until the registration is open, to avoid any unnecessary confusion.

More Information

Basic information for attendees like Important Dates, Accommodations, Venue, Visa… Everything you need to know about your stay in Banja Luka.

Practical

While these pages have almost nothing to do with the Conference itself, they do provide a vast information about city, getting to Bosnia, some practical information, as well as the Map of the whole city made my me :) …
New Pages added
New features:
Bosnian language
Site is now available on Bosnian language for native speaking attendees, should they have problems with English version. Every page is available on both languages, which can be changed by clicking on ba/en flag in upper left corner, or DC11: Bosnian Version.
Design
As you may have noticed, the official page received a small face lift. New header with the Government building, a small token of appreciation for all the help the Government is providing; as well as some minor changes in CSS and color scheme. While talking about design, we'd like to thank Leandro Gómez for his help with the header.
Sponsorship
Sponsorship Levels
As agreed on the meeting, which took place on 22. of February, [Meeting logs], following sponsorship levels will be used for this years conference:
Steel < 1.000 €
Bronze > 1.000 €
Silver > 5.000 €
Gold > 10.000 €
Platinum > 20.000 €
Main reason for lowering amounts is due to last years results of high increase in the same. As for the benefits of these levels, the only thing changed is t-shirts / bags places; we believe t-shirts are much more noticeable than bags, and have therefore been promoted to Silver, while bags have been downgraded to Bronze. For a full list of requirements and benefits, please visit: DC11: Sponsorship
Sponsorship Brochure
Sponsorship brochures have finally been completed and are available for a public distribution. The brochures are available in 3 qualities: low, high and original. Low and high quality brochures, ~6Mb and ~8Mb respectively, are for normal distribution to our sponsors, while original quality, at around 240Mb, is intended for maximum quality printing. Just as with the website, each quality is available in both Bosnian and English. Current version of the brochure is 1.1 and is most likely the final one. These brochures are available at Documentation page: DC11: Documentation >> Documents made by Local Team
Or download them directly:
Also, I'd like to thank Mirosal Remetic for making a great template and Pablo Duboue for some very valuable suggestions regarding the structure of the brochure.
Visas and Customs Rules
Many questions have been raised regarding Bosnian visa regime. We got in contact with the embassy and they clarified who can enter our country with(out) Visa. The list can be found on DC11 Wiki: Visa regime. It also states, which countries have a privilidge of 'ID-only' entrance. If your country is not listed, that means you will need visa. If you want to know what exactly you need to get one, please visit the this official Government page and chose your country from a drop-down menu. As for the visa itself, as well as the list of Customs Rules, please read DC11: Visa.
Also, thanks to Darjan Prtic for getting the list from the Government officials.
So, what's next?
If you think, that is it for now, you are dead wrong. At this very moment following is being organized and developed:
Registration

Registration Team is currently hacking penta and modifying it for this years needs and conditions. We expect to have registrations open by the end of March / beginning of April.
Travel and getting to Banja Luka Being one of the greatest obstacle, Travel Team is working hard on finding best routes for attendees and mapping the city…
Sponsorship With final decision and agreement for sponsorship levels and brochures ready for public distribution, Sponsorship Team is now actively looking for new sponsors, global and local, preparing various promotional material, as well as planning our advertising strategy.
Final word
Well, these are pretty much the highlights of some recent and some future developments of DebConf11 organizational team. Mind you, there's a lot more going on, but I tried to give a small summary from the inside. Should you be interested in attending, helping out, sponsoring or just have some questions, feel free to ask them on our mailing list at: debconf11-localteam@lists.debconf.org. I should inform you that this is a public mailing list and its archives are available for a broader public. If you do not wish for your mail to be made public, please direct any enquiry directly to me trough the Contact Form or any other member of Core Local Team, Adnan Hodzic or Velimir Iveljic.

(Posted by: Jon Dowland)
Hi there! We are working away on preparing an infomail for DebConf7 attendees, which will cover the specifics of Hostel check-in times, what to bring, key arrangements, etc. etc.
However, we could really use some figures on who might make use of the breakfast facilities offered by one of the two hostels, Budget Backpackers.
BB offer an uncooked breakfast (cereal, toast, tea and coffee, etc.) at a rate of 2 GBP per morning, payable on the morning. They are keen to know who might be interested in this service in advance, so they can prep the kitchen if the numbers are huge.
Both hostels have very good kitchen facilities and I'd expect that most people would be more inclined to group together and buy communal milk, cereal, etc. which is likely to work out cheaper too.
If you are staying in Budget Backpackers (check here if you are not sure) and you think you will be using the breakfast service, please mail accommodation@debconf.org as soon as possible with the days you may be doing this so I can let the hostel know and they can ensure they are adequately prepared for the demand.
Thank you!